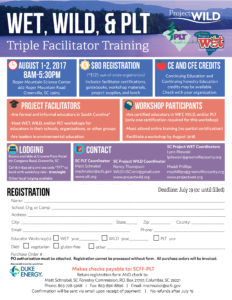 Join Projects WET, WILD, and PLT for a triple facilitator training!
This workshop is for educators interested in becoming facilitators for Projects WET, WILD, and Learning Tree. Project facilitators host educator workshops at their schools, organizations, or other groups. To quality for this facilitator training, you must be a certified educator in at least ONE of the projects.
The workshop is August 1-2, 2017 at the Roper Mountain Science Center (402 Roper Mountain Road, Greenville, SC 29615). Training is Tuesday from 8:00am-5:30pm and Wednesday from 8:00am-5:00pm.
Registration is $80 for South Carolina educators* and includes facilitator certifications, guidebooks, workshops materials, project supplies, and lunch. *Out-of-state educators may register for $125.
CE and CFE credits may be available – please check with your district or organization.
Group lodging is available at Crowne Plaza Hotel (851 Congaree Road, Greenville, SC 29607). Room rate is $120/night. Book online athttp://bit.ly/2noDC4C or by calling 877-834-3613 using code "TFT". Other local lodging is available throughout Greenville.
To register, please print and return the  Registration Form.  The SC Forestry Commission is processing all registrations for this workshop.
Registration ends July 19 or when filled. Participants must be registered to attend and must attend the entire workshop to become certified (no partial certification).